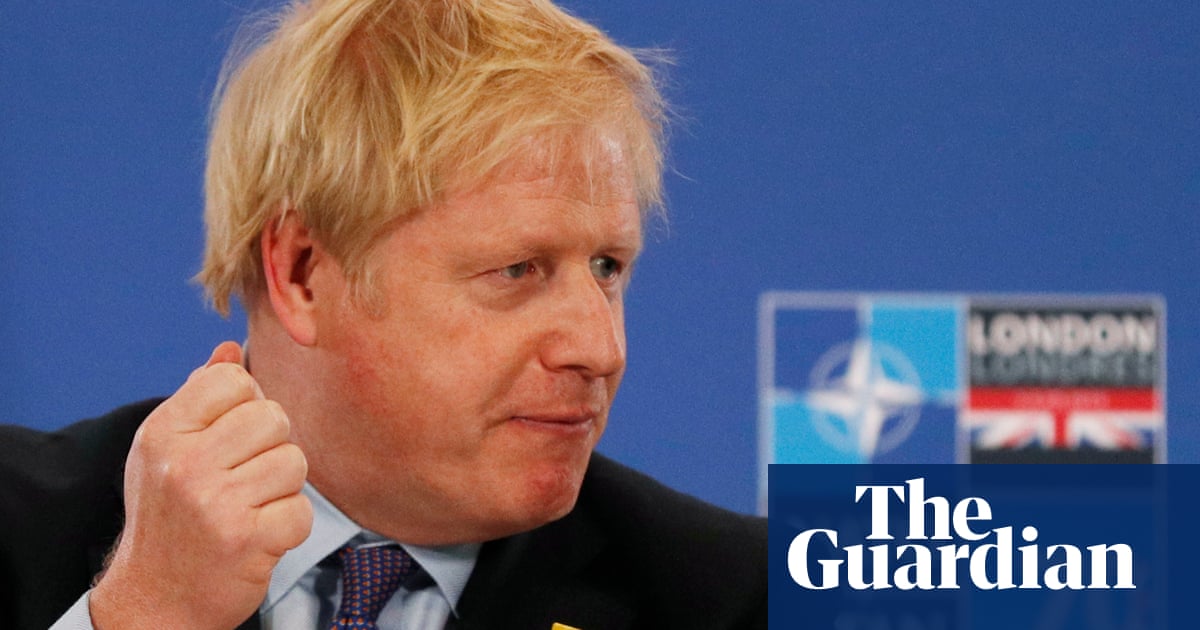 Boris Johnson has cast doubt on whether the UK will allow Huawei to invest in its 5G network, suggesting it might "prejudice" the Five Eyes intelligence relationship, after Donald Trump applied pressure for other countries to adopt the US ban.
In his strongest signal so far that he is preparing to shut Huawei out of the network, Johnson said that security concerns were paramount in the decision about the Chinese company.
Asked about his decision, Johnson said: "I don't want this country to be hostile to investment from overseas. On the other hand, we cannot prejudice our vital national security interests nor can we prejudice our ability to cooperate with other Five Eyes security partners. That will be the key criterion that informs our decision about Huawei."
Johnson made the comments at the Nato leaders' meeting in Watford where he deliberately avoided mentioning Trump's name despite eight questions about the US president, amid fears among his advisers about their close relationship going down badly with voters.
However, the substance of his statement appeared to contain an acknowledgment that Trump's lobbying over Huawei was paying off. The US has been pressing the UK to block the Chinese company from accessing UK telecoms equipment, fearing it could then be used to spy on the west.
And Johnson gave his most explicit acknowledgment so far that involving Huawei in the network could compromise cooperation with Five Eyes, the intelligence-sharing alliance between the UK, US, Canada, New Zealand and Australia.
Huawei has always denied the allegations against it, saying it abides by the laws of each country in which its equipment is present.
Trump pressed the prime minister on the issue again on Tuesday night during a meeting in Downing Street, with a White House spokesman saying the leaders discussed "the importance of both nations working together to ensure the security of our telecommunication networks and guard against untrusted providers".
At the Nato meeting, Trump then stressed that Huawei was a "security risk, a security danger" and claimed no other country he had spoken to would be going ahead with it.
"I spoke to Italy, they look like they are not going to go forward with that. We spoke to other countries and they are not going to go forward," he said.
"Everybody I have spoken to is not going forward, but how many countries can I speak to? Am I going to call up and speak to the whole world? We are building it, we have started, but we are not using Huawei."
Jens Stoltenberg, the Nato secretary general, said leaders at the meeting had committed to ensuring the security of their telecommunications infrastructure, including 5G, and would use only "secure and resilient systems".
Following Johnson's intervention, a Huawei spokesperson said: "We're confident the UK government will continue to take an objective, evidence-based approach to cyber security. Our customers trust us because we supply the kind of secure, resilient systems called for by the Nato Declaration and will continue working with them to build innovative new networks."
Johnson was due to have made an announcement on the issue in the autumn, after Theresa May deferred the decision to her successor. It had been reported that the UK government was on the brink of giving Huawei access to non-contentious areas of the 5G network, a decision that would have infuriated the White House. Several Sunday newspapers said in October that the national security council was about to sign-off on a decision to allow Huawei to supply non-core technology.
But no verdict on Huawei emerged before the election was announced, continuing the UK's long procrastination since the national security council said in April it would be acceptable to let Huawei build limited parts of the network.
Johnson was pressed again on the timing of the Huawei decision later in the press conference, insisting the delay had nothing to do with the election.
"We're going to make a decision and we're going to make it based on, as I say, on the paramount importance of protecting our critical national infrastructure and also protecting our Five Eyes relationships – and I don't think it's anything to do with the timing of the election," he said.
During the 20-minute question-and-answer session with journalists, Johnson also suggested he was against bringing back British extremists who have been fighting with Islamic State to stand trial in the UK.
"As you know, one of the difficulties we have in taking these people back is that our legal systems make it very difficult for us to secure convictions," he said.
"And I go back to what I said earlier, people go out to break the law, to sort of fight in terrorist organisations, then they really have to take the consequences."
---
Post syndicated via RSS from the Guardian.
More people in Canada, like you, are reading and supporting The Guardian's independent, investigative journalism than ever before. And unlike many new organisations, we have chosen an approach that allows us to keep our journalism accessible to all, regardless of where they live or what they can afford. But we need your ongoing support to keep working as we do. The Guardian will engage with the most critical issues of our time – from the escalating climate catastrophe to widespread inequality to the influence of big tech on our lives. At a time when factual information is a necessity, we believe that each of us, around the world, deserves access to accurate reporting with integrity at its heart. Our editorial independence means we set our own agenda and voice our own opinions. Guardian journalism is free from commercial and political bias and not influenced by billionaire owners or shareholders. This means we can give a voice to those less heard, explore where others turn away, and rigorously challenge those in power. We need your support to keep delivering quality journalism, to maintain our openness and to protect our precious independence. Every reader contribution, big or small, is so valuable. Please support The Guardian for as little as CA$1 – and it only takes a minute. Thank you.