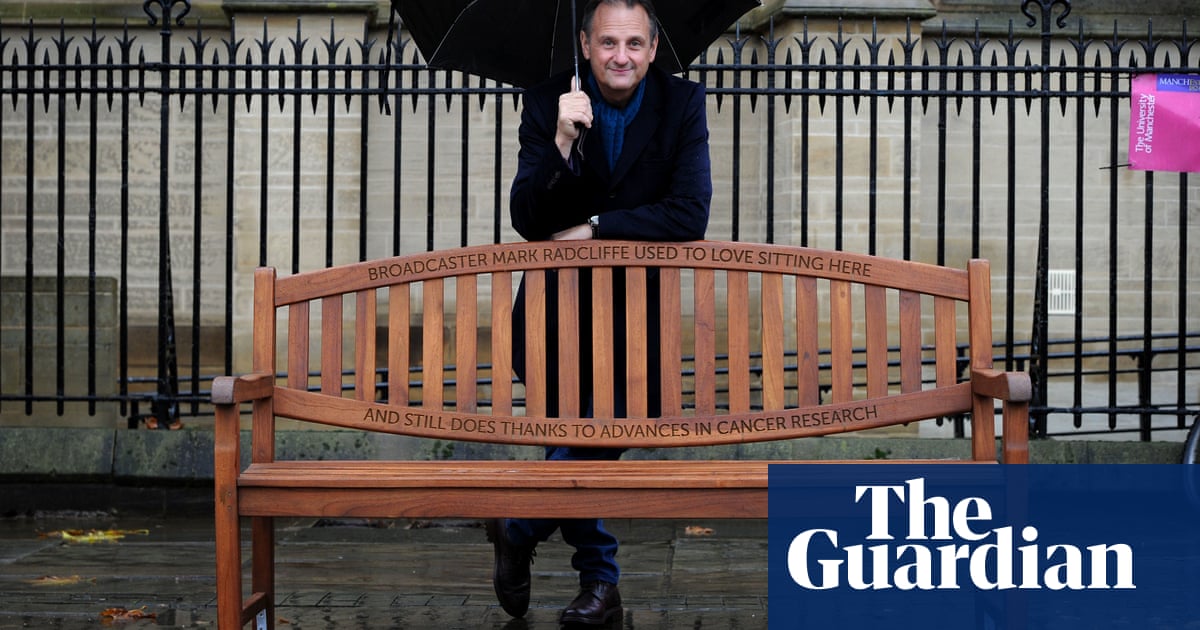 It is an established way to commemorate the dead: dedicating a bench to a loved one's memory and placing it in one of their favourite locations.
But the BBC DJ Mark Radcliffe has been bestowed the honour in life after a bench bearing his name was installed in the grounds of Manchester University, where he studied in the late 1970s.
The inscription reads: "Mark Radcliffe loved sitting here … and still does thanks to advances in cancer research."
It marks the broadcaster's recovery from cancer after being treated at the Christie hospital in Manchester last year, and is part of the Re-Write Cancer campaign, which aims to raise £20m towards the cost of building a £150m cancer research facility in Manchester.
The new building – a joint project between Cancer Research UK, the Christie and the university – will bring together the largest concentration of scientists, doctors and nurses in Europe.
Radcliffe, who has shows on Radio 2 and 6 Music, was diagnosed with head and neck cancer at the end of last year, requiring the removal of tumours from his neck and mouth. The illness forced him to spend several months off air. He returned to work in February.
Radcliffe said: "After everything the Christie have done for me, it was a no-brainer to do this. I'm very proud to be associated with this campaign so that other people can be as lucky as me and get treated there."
The bench is situated right outside what was once the office of Radcliffe's father, who was a communications officer at the university. He died last year. "Sitting there I felt like he was looking down on me," Radcliffe said.
More benches should celebrate life, he said. "I get a bit fed up of all those plaques, with people claiming a bench for one person. What about everyone else who sat on it? There's something a bit selfish about it.
"Easy for me to say, I suppose. I did feel self-aggrandised that I've left a little bit of myself on the campus of the University of Manchester. But it's good to celebrate life and it's quite nice to sit on a bench and be wrapped around by survival."
The new centre will be built next door to the Christie, on the site of the former Cancer Research Manchester Institute, which was seriously damaged in a fire in 2017. Although much vital research work was salvaged, more than 300 scientists and support staff were displaced and are temporarily relocated 13 miles away at Alderley Park in Cheshire.
---
Post syndicated via RSS from the Guardian.
More people in Canada, like you, are reading and supporting The Guardian's independent, investigative journalism than ever before. And unlike many new organisations, we have chosen an approach that allows us to keep our journalism accessible to all, regardless of where they live or what they can afford. But we need your ongoing support to keep working as we do. The Guardian will engage with the most critical issues of our time – from the escalating climate catastrophe to widespread inequality to the influence of big tech on our lives. At a time when factual information is a necessity, we believe that each of us, around the world, deserves access to accurate reporting with integrity at its heart. Our editorial independence means we set our own agenda and voice our own opinions. Guardian journalism is free from commercial and political bias and not influenced by billionaire owners or shareholders. This means we can give a voice to those less heard, explore where others turn away, and rigorously challenge those in power. We need your support to keep delivering quality journalism, to maintain our openness and to protect our precious independence. Every reader contribution, big or small, is so valuable. Please support The Guardian for as little as CA$1 – and it only takes a minute. Thank you.